LCD display 2.8-inch, 320 x 240 pixels with touch
Mini keyboard
ESP32 CPU Dual-Core Processor
16MB Flash, 8MB PSRAM
2.4 GHz Wi-Fi & Bluetooth 5 (LE)
SX1262 LoRa Transceiver
Trackball, Microphone, Speaker
MeshCom 4.0 Firmware
Setup via SD memory card
Protocol for text, positions
Direct Heard Nodes
Planned
Programming:
SD card:
The firmware stores the basic data from the SETUP on the SD card
for the first start the file SETUP.TXT has to be created with a text editor. Attention! Adhere to format

# MeshCom 4.0 T-Deck
# Setup Parameter# callsign
call=OE1XXX-99# lat/lon in decimal degree +/- for N/S W/E
lat=48.000
lon=016.0000# alt in m asl
alt=999# APRS symbol / or \ and character from APRS table
# runner /[
# car /(
# phone /$
# bulli /V
# WX /aprsgroup=/
aprssymbol=[# sounds
keyclick=none
start=winxp.mp3
message=bell.mp3

The files

winxp.mp3 (Will be played after a reboot)
bell.mp3 (Will be played when a new text message arrives)

from the download also copy to the SD card
GPS module installation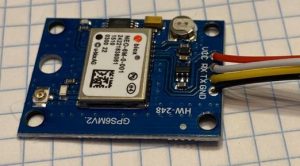 The GPS module fits into the 3D-printed housing in the bottom compartment in the area of the antenna feed-through. The connections can of course also be soldered to the soldering points of the socket in the housing. ATTENTION: Compare the order with the printed circuit board.
The GPS antenna with can be placed under the GPS module with the silver antenna side down. possibly fix the module with double adhesive tape with the GPS antenna.
The GPS module is supported as of FW version TC 4.27/b
The GPS is to be activated via the serial console
The GPS module flashes by means of a blue LED
Transmissions via LoRa-TX occur automatically every 30 minutes
With the command, via serial console, -sendpos a GPS position message can be triggered.
Debug/test messages can be enabled with the command -gpsdebug on via serial console.
Case 3D
Antenna feedthrough for external antenna
Space for up to 3000mAh battery
Space for GPS module + antenna
Fit for top to bottom adjusted
Download 3D files